Becoming SAR Certified
To become CC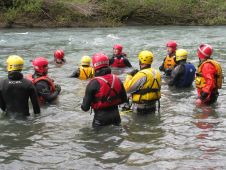 SO SAR certified, you will be required to successfully complete all of the following within 1 year.
Attend the 2 1/2 day CCSO SAR Academy and pass the written exam. The Academy is held once per year.

Complete the Winter X by spending one night outdoors with minimal equipment.

Complete the 1 1/2 day land navigation exercise conducted annually.

Acquire a First Aid CPR card from ma recognized source.
Once certified, you will be required to attend training throughout the year in a wide range of subjects such as man tracking, survival, litter extraction, land navigation, etc..
Not everyone on the team needs to be certified as a field deploy-able SAR technician. Those who cannot or chose not to maintain the above rigorous training and certification standards can participate as support members. Support members fill positions as drivers, logistics coordinators, communications, base-camp, etc..
Specialists training in areas such as surf, white water or cliff rescue are generally obtained through extra training with experienced members or by attending specialists schools which the individual must pay for. To be a team specialist, you must obtain and maintain your basic certification.
SAR is not for everyone, it takes commitment, time, and a desire to help your community with little or no reward or recognition. The team needs dedicated and motivated members to be successful.