California Oregon Regional Search and Rescue Task Force (CORSAR)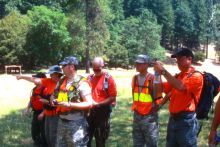 The CORSAR concept stemmed from a joint Mission Debriefing on December 8, 2006, to evaluate how to better provide for regional communications and public assistance during major or extended search and rescue missions.  The CORSAR group recognized that it needed to formalize inter-relationships and move together jointly to enhance mutual operations.
This group includes: Curry County, Douglas County, Josephine County, Klamath County, Jackson County, Coos County, Oregon State Police, Siskiyou County, Del Norte County, Bureau of Land Management, US Forest Service, Brim Aviation, Crater Lake National Park Service, American Red Cross, and Civil Air Patrol.
Our mission is to foster regional communications to provide and coordinate personnel, equipment, education, and training for the effective delivery of Search and Rescue services in the Southern Region.   
The CORSAR team will provide trained search and rescue personnel, search management, and other related resources to federal, state, and local authorities to further safeguard and save lives. 
Curry County Search and Rescue VOUNTEERS truly believe in giving back to the community and do so through our Search and Rescue Missions, our extensive training, and in our Community Event participation.  All of us strive for excellence in our performance and in doing so, greatly enhance our community.